Posted on 09/01/2021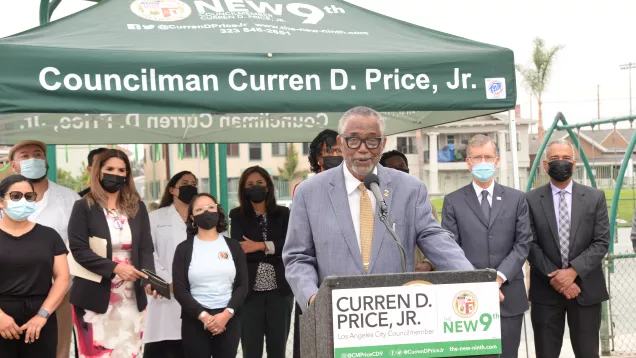 LA City Councilmember Curren Price introduced a motion on Sept. 1 asking for the development of a comprehensive "Recovery Plan for the 27th Street Neighborhood" (from 24th Street to 30th Street and from Trinity Street to Griffith Avenue). The proposal calls for an additional $5 million to help the area recover from the devastating explosion, including the establishment of a Neighborhood Recovery Center, and services such as infrastructure improvements, mental health services, job and workforce development, access to children's services, as well as business grants and prioritization for the City's Guaranteed Basic Income program. The motion requests that the $5 million for the Recovery Plan include money from the LAPD budget. 
"Our neighbors face an uphill battle and a tough road ahead for years to come," added Price. "Long before this disaster, they faced systemic inequality, structural barriers and racial disparities that have been exacerbated in the wake of this disgraceful LAPD action. We need our own version of a 'Marshall Plan' that is going to bring stability to the lives of those affected, revitalize and uplift our neighborhood once and for all."
The motion, which was seconded by Councilmembers Marqueece Harris-Dawson and Mark Ridley-Thomas, was referred to the Economic Development and Jobs Committee. A report outlining the different elements of the Recovery Plan, which includes the $5 million, is expected by the end of September. 
"Long after the homes are repaired, and the last window pane has been installed, there will be significant residual impacts," Councilmember Price said. "If we are to come out stronger and better from this catastrophe, we will need to do much, much more. Given the infliction that has been felt throughout the neighborhood, more funding and assistance is needed to help make the victims whole."
In July, Councilmember Price championed a $1 Million Emergency Relief Fund to provide longer-term, first-class corporate housing, home repairs and financial assistance for impacted neighbors. Since the botched LAPD detonation of illegal fireworks on June 30, Councilman Price has been focused on ensuring individuals directly impacted have had access to assistance and support to get back on their feet.
See the full motion here.