Posted on 10/13/2022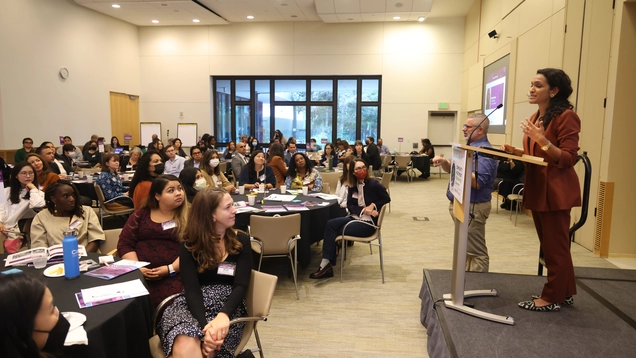 The 2022 Ending Poverty Summit gathered leaders throughout the City and beyond to inspire action to better serve marginalized communities. On Oct. 13, more than 200 participants descended on the California Endowment where service providers, policymakers, philanthropic organizations, private sector professionals, academic experts, and healthcare providers, as well as elected officials, displayed their deep commitment to the community. 
Speakers included CIFD General Manager Abigail R. Marquez, LA City Council Members Nithya Raman, Curren Price, and Marqueece Harris Dawson, Mayor Eric Garcetti, former Mayor of Stockton Michael Tubbs, Capri Maddox, Executive Director, Los Angeles Civil + Human Rights and Equity Department, Dr. Ann Owens, Associate Professor, USC, and many others.
A panel of participants from the BIG:LEAP program shared impactful stories of personal triumph and success. 
The event was a follow to the 2019 summit and affirmed the City's commitment to working together toward reducing poverty and enhancing pathways toward economic resilience.